About RESTORU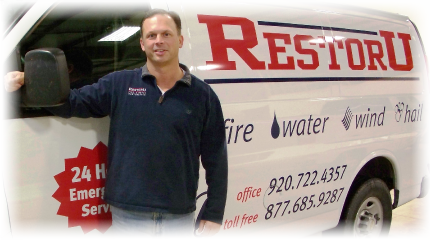 RestorU: 24-hour Emergency Service
RestorU's specialists are available 7 days a week / 24 hours a day offering immediate response time to best serve you in your time of need.
RestorU: You & Your Property Are Our First Priority
When disaster strikes, call 1-877-685-9287.
RestorU will be there for you, ready to help you. Our first priority will be to protect and secure your property from any further damage.
RestorU: Prepared Ready Experienced Specialists
RestorU has the equipment and experience necessary to handle the most challenging situations. Our experts have years of experience protecting and restoring homes and businesses throughout Wisconsin.
RestorU: Nationally Recognized For Excellence
RestorU is nationally recognized by the Institute of Inspection, Cleaning and Restoration Certification (IICRC) as a Certified Firm. This recognition is reserved for firms within the industry that meet the highest of standards.


RestorU: Restoration Of Your Building & Its Contents
RestorU offers complete restoration of your buildings and their contents.
RestorU: Storage Facility To Store Your Property
RestorU has large storage facilities to safely house your personal belongings and business property until your home or business is completely restored.
RestorU: Locally Owned & Operated
RestorU's Neenah, Park Falls and Wausau, Wisconsin locations are locally owned and operated.
RestorU: Complete Restoration Services
RestorU provides complete repair and restoration services for your home or business and specializes in these services:
Content Pack out, Storage & Cleaning
Structural Rebuild